The Vineyard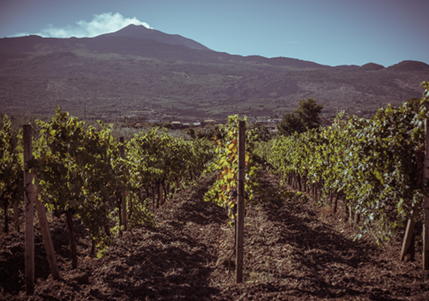 The Nerello Mascalese vineyard is situated a few kilometres from the centre of Randazzo (CT) in the Allegracore district at an altitude of 700 meters north of Etna, an ideal position to enjoy the surrounding view. The soil is of volcanic origin with lava substrate at varying depths. The vineyard, part of which was planted 40 years ago, and the rest 50 years, has been cultivated in harmony with nature for over 20 years, without the use of herbicides, fertilisers and other chemical products.
Il Vigneto
La vigna di nerello mascalese si estende a pochi chilometri dal centro di Randazzo (CT) in Contrada Allegracore, ad un'altitudine di 700 metri, a nord dell'Etna, in una posizione ideale per godere del panorama circostante.Il terreno è di origine vulcanica con substrato lavico a profondità variabile.
Il vigneto, impiantato in parte 40 anni fa ed in parte oltre 50 anni fa, è coltivato nel rispetto della natura da oltre vent'anni, senza alcun utilizzo di diserbanti, concimi e prodotti chimici.